NEMA'S ANGELILLOS TO BE REMEMBERED SATURDAY
COURTESY NEMARACING.COM
The Northeastern Midget Association's history book is a big one and you'll find Gene Angelillo's name all over it. He is responsible for much of the club's history throughout the last three decades. Gene, his team and drivers amassed over 100 wins and a record 14 owner championships.

Gene, and wife Marilyn joined the club at a pivotal time for midget racing and made sure they kept NEMA on the map with competitive equipment and strong dedication to the organization. Both served as officers with the club, Gene as President in the 90's.

The Angelillos will be remembered and honored by NEMA with the annual race in their name this Saturday night at the Waterford Speedbowl.

NEMA returns to "The Bowl" for their second race in as many weeks. A full field of NEMA midgets and NEMA Lites are expected to be on hand along with the ISMA Supermodifieds and Valenti Modified Racing Series for the track's annual "Wings and Wheels" event.

Suffield CT's Todd Bertrand could be considered the favorite heading into Saturday. He's won the last three Angelillo Memorials, including his first ever NEMA win in 2011.

Seth Carlson of Brimfield, MA will no doubt return with the same set-up that helped him lead every lap of the last NEMA race at Waterford. He set a blistering pace early leaving only 8 cars on the lead lap at the finish to claim his second win of the year.

Avery Stoehr of Lakeville, MA rides a wave of podium finishes heading into the Angelillo Memorial. The young hotshoe scored a win, a third and a second in a week that saw three events at three different tracks. He's been wonderful at Waterford with a win on opening day and his runner-up finish two weeks ago. Stoehr, in his first full season in the midgets is locked in a classic duel atop the point standings with four time champ and season three time winner Randy Cabral of Kingston, MA.

But, the Speedbowl is not one of Cabral's best performance tracks. He suffered a DNF on opening day, a fifth place finish last time out. He has been shutout of Waterford's victory lane for a handful of years and looks to change that on Saturday.

The NEMA Lites had another first time winner in Juris Kupris of Williamsburg, NY last time out. Kupris dominated the field after he methodically picked his way through the top five to wrestle the lead from NJ's Anthony Payne with just a handful of laps to go. Payne followed Kupris across the line two seconds later to score his career best finish.

Both Kupris and Payne are out to prove their podium finishes were not a fluke. The other podium finisher, PJ Stergios of Candia, NH hopes to improve this week and claim victory #5.

Ryan Krachun of Neshanic Station, NJ looks for his first win in NEMA despite leading the point standings. Danny Cugini of Marshfield, MA, Andy Barrows of New Ipswich, NH and CT's Bigelow brothers are also threats to bring home the Angelillo trophy in the Lites feature.

Waterford Speedbowl's Wings and Wheels event also offers an autograph session with drivers from all the touring series between the practice sessions and qualifying.
Remembering Gene and Marilyn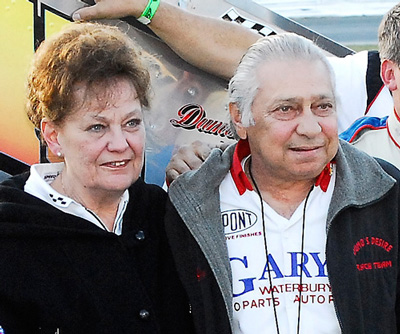 It is all too easy to dismiss the mention of Marilyn and Gene Angelillo with numbers – like 115 or so wins, 107 of them with the Northeastern Midget Association. They won 14 NEMA owner championships with drivers Drew Fornoro, Russ Stoehr and Joey Payne.

Dedication is certainly fitting as well. Both were office holders, Gene serving as president and Marilyn as secretary. The club made full use of Marilyn's secretarial and organizational skills for years. The generosity of both is legend.

Waterford Speedbowl hosts the Angelillo Memorial Saturday night, the 25-lap Midget feature part of the annual Wings & Wheels show.

Daughter Laura Kibbe continues to honor Marilyn, who passed away in September of '07 and Gene who died in March of 2010. It has become a major NEMA event.

No doubt, they'll be some stories told at the 'Bowl. Over three plus decades, Marilyn and Gene touched a lot of lives. It's safe to say, if you spent any time at all with either of them you have a story. The always patient Marilyn and the often fiery Gene left lasting impressions. They are part of NEMA folklore.

It was Marilyn who came up with the "Dumo's Desire" that still adorns the car. It honors Gene's father Dominic or "Dumo." Loyalty was high on the list of priorities for them. Gene was 45 when he bought his first Midget (another great tale), reason enough, Marilyn figured, to put it on the car.

Getting back to numbers – the first win is classic folklore. It was 1981 at Hudson Speedway and Drew Fornoro had just recently joined the team. Early in the feature, Nokie Fornoro, in Mike Scrivani's 21, went off track in turn three, bringing out the red. Drew, concerned about his brother, got out of the 45 and headed for the crash.

It was Scrivani who noticed the right rear on the 45 had gone flat. The still solid right rear was taken off the damaged 21 and, while a Scrivani crew member held the car aloft, put it on the 45. Drew then went out and won the feature beating Lee Smith and Mike Favulli.

Gene loved telling that story. It was one of many.