5th Annual Wings & Wheels
Saturday, August 11th
VMRS 100, ISMA 50, NEMA 37, NEMA Lites 20,SK 35, SKL 25
Tonight's 5th annual Wings & Wheels event has been cancelled. ISMA/NEMA will return 8/18 and VMRS 9/8
5th Annual Wings & Wheels |NOW SIX Divisions highlighted by ISMA, NEMA & VMRS
Presented by,
Grandstands: Adult $38, Youth (14-6) $10, Aged 5 and under FREE | Pits: $45 with License, $55 without
Pits 2:00pm, Grandstands 3:00pm | Rotating Practice 3:00pm, Qualifying 5:30pm, Feature Racing 7:00pm
Click Here for the Detailed Event Schedule (PDF)
**NEMA LITES ADDED THURSDAY, AUGUST 2ND**
**Shane Hammond Memorial make-up from 7/28**
**Please note NEMA 37 is from 10 heat lap and 27 feature laps (NEMA Lite will not run heats, feature only)
Shane Hammond Memorial Lap Board
The Third Annual Shane Hammond Memorial Race is re-scheduled for August 11, 2012 at The Waterford Speedbowl. It's just around the corner, no procrastinating, we need you now!! We are looking for corporate sponsors to help with the cost of the day. Last year shirts looked awesome and I can't wait to see what Bill Smith from Wild Child Design comes up with this year. All corporate sponsors will be featured on the shirt and program.
We will also be selling laps for $20.00. You can choose a lap and a position to sponsor, even which division and that race team will receive an extra $20.00. All lap sponsors will be featured in the program. A lap chart will be set up on the NEMA site and the SHBF web site. It takes time to coordinate all the events of the day, volunteers, raffles, food and fun. We hope you will consider being a part of this years memorial race.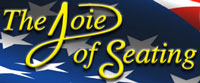 A CUSTOM SEAT FROM
The Joie of Seating

AUGUST 11, 2012 – PRIZE DRAWING
$50 Donation – SHBF will sell 37
but no more than 50 tickets.
Deb Marvuglio  -   508-245-0689

[email protected]
Loading Map....